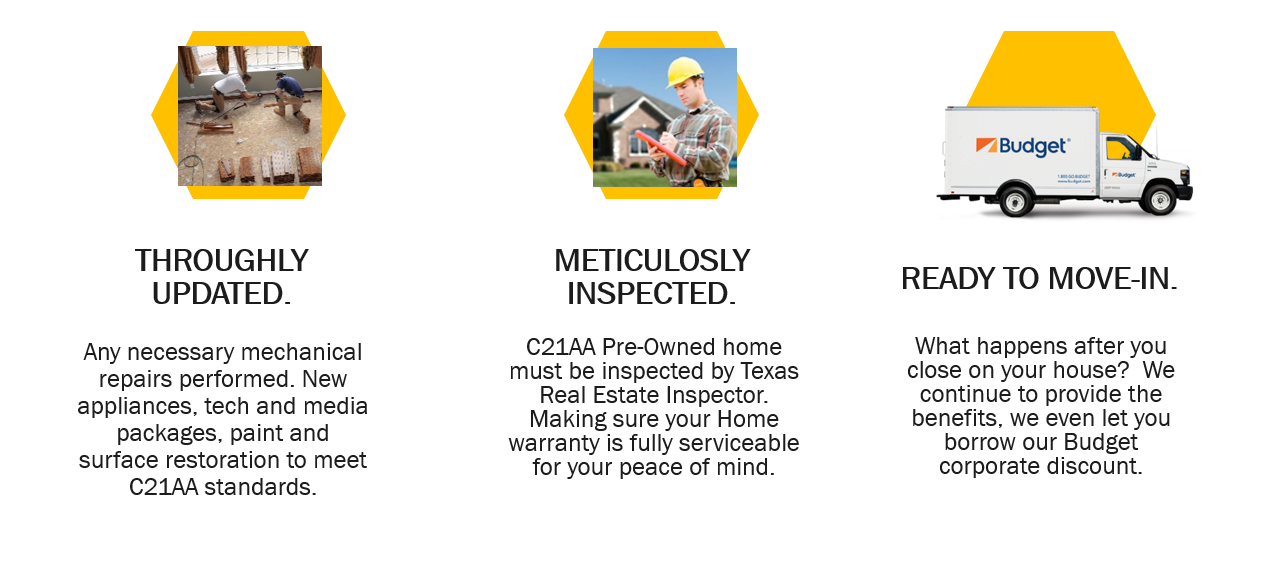 We are thrilled to change the way you sell, buy or invest in real estate.
Home Seller Benefits
Once the home inspection is completed and any necessary repairs made, the Seller will have a much better idea of the actual condition of their home and what the selling price should be.
If during the inspection, items are discovered that need attention, the homeowner can make repairs prior to the buyer's inspection, thus eliminating "last minute re-negotiations" or buyers walking away.
The seller will have copies of the inspection summary for open house displays as well as a copy being posted on this web site & MLS.

Typically, the home seller would receive a premium (currently projected to be from 3 to 5%) for their Certified Pre-Owned Home much like auto dealers do for the Certified Pre-owned Autos (5 to 8%).
Sellers should have no post-closing calls about their former home
The combination of pre-listing home inspection and a home warranty provides unparalleled transparency for prospective buyers about the condition of your home and the possibility of unwanted surprises after they move in
When your home is listed as a Certified Pre-Owned Home it will differentiate your listing in the marketplace and maximize your number of potential buyers.
Home Buyer Benefits:
An inspection has already be performed by a qualified home inspector and paid for by the seller
The buyer can be present and get an updated inspection using the same inspector for 50% of the normal rate.
They will be able to rest assured that nothing is seriously wrong with their new home and that they won't be facing major repair expenses
The combination of a pre-listing home inspection and a home warranty provides unparalleled transparency for prospective buyers about the condition of the home and the possibility of unwanted surprises after they move in
Be able to make their mortgage payments because they will have no major repair expenses
Convenience of repair if needed by means of a 24/7/365 on a toll-free number